Resources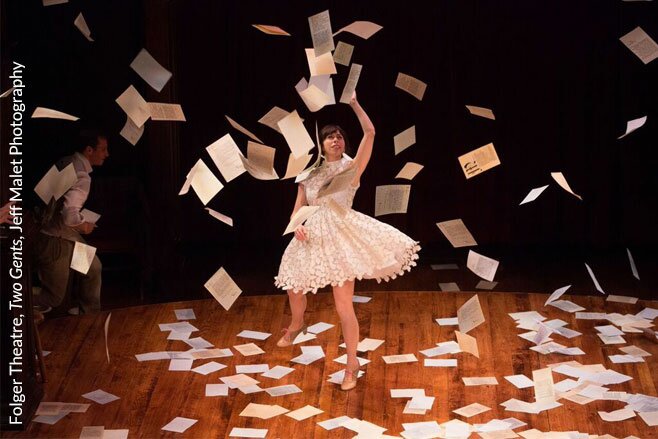 Links
Folger Shakespeare Library
Heart of America Shakespeare Festival
Open Source Shakespeare
Tickle Brain
Shakespeare Theatre Association
Shakespeare Online
Shakespeare Birthplace Trust
Shakespeare's Globe
Internet Shakespeare Editions
Royal Shakespeare Company
Folger Digital Texts
Early Modern Print
The Bodleian First Folio
Henslowe-Alleyn Digitisation Project
Six Degrees of Francis Bacon
The English Renaissance in Context
Suggested Reading
Nonfiction
Shakespeare: The World as Stage by Bill Bryson
Bryson combines scholarship and his trademark wit to bring us this highly readable Shakespeare biography. Though not a Shakespeare scholar, Bryson has a curiosity that leads to asking all the right questions. Fans of both Bryson and The Bard will find something to enjoy here.
Pop Sonnets: Shakespearean Spins on Your Favorite Songs by Erik Didriksen
The Bard meets the Backstreet Boys and Bon Jovi. 100 classic pop songs reimagined as Shakespearean sonnets.
Will in the World: How Shakespeare Became Shakespeare by Stephen Greenblatt
How did a provincial young man move to London and quickly becomes a successful actor and respectable playwright? Renowned in his own time and through history as "The Bard," how did Shakespeare accomplish so much so quickly and with little to no education or financial means? A fresh take on the traditional biography from acclaimed scholar Greenblatt.
The Millionaire and the Bard by Andrea Mays
Shakespeare never believed his plays would last. Wouldn't he be surprised to find his first folio among the most valuable books of all time, sought by collectors the world over. One of those collectors, Henry Folger, would go on to amass the largest collection of the Bbard's folio's in the world. This is the story of an obsession, classic art, and commerce in The Gilded Age.
Women of Will: Following the Feminine in Shakespeare's Plays by Tina Packer
Packer explores the various women of Shakespeare's plays, the strong, the funny, and the fearless. Tackling each heroines one by one, the author shows us how Shakespeare's understanding of femininity shifts as the playwright grows and matures from boy to man.
Contested Will: Who Wrote Shakespeare? by James Shapiro
Some of history's greatest minds have disagreed on this question – who really wrote Shakespeare? "The authorship question" is examined in all its fascinating detail (Forgeries! Conspiracies! Ciphers and codes!) by respected Shakespeare scholar Shapiro.
The Year of Lear: Shakespeare in 1606 by James Shapiro
In 1606, after a few years of decreasing productivity, Shakespeare managed to write three of his greatest tragedies: King Lear, Macbeth, and Antony and Cleopatra. Noted scholar Shapiro examines the tumultuous year in England's history that led Shakespeare to newfound inspiration for some of his most famous and complex plays.
The Shakespeare Thefts by Eric Rasmussen
Published in 1623, the 750 copies of the first edition of William Shakespeare's collected works, known as the First Folio, has been sought after relentlessly by kings, earls, and bibliophiles. In his effort to track down the extant 232 copies renowned Shakespeare scholar Eric Rasmussen and his team of First Folio hunters embarked on an incredible adventure around the world. Part literary detective story, part Shakespearean lore, The Shakespeare Thefts is a rare glimpse between the covers of one of the most coveted books in the world.
Fiction
The Great Night by Chris Adrian
The mortal and Faerie worlds collide on a Midsummer's Eve in a park in San Francisco. Titania, bereft at the abandonment of her husband and death of her changeling son, unleashes chaos in the form of the demon Puck. Three unsuspecting broken-hearted passers-by become trapped in the park, all with a part to play in order to stop Puck's destruction.
The Weird Sisters by Eleanor Brown
Three sisters all named for Shakespeare's heroines return home to help care for an ailing mother and to run away from their own problems. In this household, there's no problem a good book can't solve, but in these cases a biblio-solution may not be enough.
License to Quill by Jacopo della Quercia
William Shakespeare and Christopher Marlowe team up in this quirky James Bond-esque spy caper that takes place during the history's real life Gunpowder Plot in post-Reformation England. Alludes to the mysterious origins of the Bard's Macbeth.
William Shakespeare's Star Wars: Verily, a New Hopeby Ian Doescher
The plot of the Star Wars universe lends itself perfectly to adaption into iambic pentameter. A brother and sister separated at birth, reunited to fight an evil emperor? Sounds Shakespearian to us.
Also in the series:
William Shakespeare's The Empire Striketh Back
William Shakespeare's The Jedi Doth Return
William Shakespeare's The Phantom of Menace
William Shakespeare's The Clone Army Attacketh
William Shakespeare's Tragedy of the Sith's Revenge
Juliet by Anne Fortier
Julie Jacobs is shocked and saddened when she learns her aunt, who had always treated her as a daughter, has left her estate to Julie's twin sister. Instead, Julie inherits a key which sends her on an adventure that blurs the lines between history and the present, fiction and fact.
Shakespeare's Wife by Germaine Greer
Noted feminist thinker Greer turns her attention to Anne Hathaway, the woman in the shadows of Shakespeare's life. Very little is known of Anne and Greer uses information gleaned from historical records, Shakespeare's will, and passing references to Mrs. Shakespeare in other historical resources to paint a portrait of a complex, vibrant woman.
The Dead Fathers Club by Matt Haig
At his father's funeral, 11-year-old Philip converses with the dead man's spirit. Philip's ghostly father wants his son to avenge his murder by the boy's uncle Alan, and be quick about it. But killing an uncle is a complicated job, especially when the young assassin is distracted by girls, bullies, school, and his own grief. This Hamlet retooling stays true to the nature of the Melancholy Prince while recognizing the absurdities of junior high.
Shylock is My Name by Howard Jacobson
Jacobson presents Shylock as a man of incisive wit and passion, concerned with questions of identity, parenthood, anti-Semitism and revenge. Shylock alternates grief for his beloved wife with rage against his own daughter's rejection of her Jewish upbringing, culminating in a shocking twist on Shylock's demand for the infamous pound of flesh.
Station Eleven by Emily St. John Mandel
Kristin Raymonde is only a child the night she sees aging movie star, Arthur Leander, collapse and die onstage during a production of King Lear. That very night, an influenza pandemic sweeps across the globe killing 90% of the population. 20 years later, Kristen travels the wilds of the Great Lakes region with a troupe of actors and musicians determined to keep art and music alive in a struggling dystopian world. Alternating between events before and after the cataclysm, lives converge, break apart, and re-entwine in this beautiful novel that appeared on may "best of" lists in 2014.
Fool by Christopher Moore
Here Moore applies his warped sense of humor to Shakespeare, bringing to life the important but often overlooked Pocket – the jester of King Lear. As Pocket and his apprentice, the aptly named Drool, set out clean up the mess Lear has mad of his kingdom, Pocket reminisces about his childhood, his life at court (dalliances with the daughters, perchance?), and encounters all manner of characters and plots from the wider Shakespeare cannon. This is not a novel for the Shakespeare purists but for fans of whip smart literary comedy. Look for the further adventures of Pocket in The Serpent of Venice.
The Black Prince by Iris Murdoch
Bradley Pierson believes he can craft his great masterpiece if only he can be left alone to write it. The dramatic and demanding lives of family and friends invade his time, space, and psyche. Events escalate until Bradley is eventually on trial for murder. Hamlet is heavily referenced throughout this Booker Prize nominee.
Mama Day by Gloria Naylor
When Cocoa marries George, she brings her love back to Willow Island, a small community off the Georgia coast. While there, her great aunt Mama Day must work against the supernatural forces that attempt to drive the couple apart. Shades of The Tempest permeate this classic novel.
Dark Aemilia: A Novel of Shakespeare's Dark Lady by Sally O'Reilly
A fictional biography inspired by the life of England's first woman poet, Aemilia Lanyer, rumored to be the mysterious "dark lady" of Shakespeare's sonnets. As a young woman, Aemilia Bassano spends time in Queen Elizabeth's court and meets a young playwright, William. Banished from court due to an unexpected pregnancy, Aemilia approaches her actor friend years later for help to save their child.
Exposure by Mal Peet
In a plot inspired by Othello, a black South American soccer star falls for and marries the white pop-singer daughter of a politician. What should be a marriage made in heaven may not be as a jealous sports agent, a murder, and the viciousness of the press are all working against the golden couple.
A Thousand Acres by Jane Smiley
Iowa farmern Farmer Larry Cook is determined to retire, and leave his thousand acre farm to his daughters and their husbands. When his youngest daughter, Caroline, doesn't seem as grateful as he'd like, he disinherits her, setting off a chain of events that will leave their family reeling. A contemporary dramatic retelling of King Lear.
Daughter of Time by Josephine Tey
A London detective, Alan Grant, believes he can judge a person's character just by their face. While recuperating in the hospital, he sees a portrait of Richard III and becomes convinced that the maligned king was innocent of the murder of his young nephews. With the help of family and friends, Grant brings his modern detective skills to an old mystery.
Gertrude and Claudius by John Updike
To Shakespeare, Gertrude was cold, calculating and complicit in the murder of her husband. Her lover, Claudius, is merely an ambitious murderer. Updike manages to turn the reader's traditional sympathies in this classic novel, giving us another view of two of Shakespeare's vilest characters.
The Gap of Time by Jeanette Winterson
In this modernization of A Winter's Tale, Winterson gives us an arrogant London money manager and an child exiled to the fictional New Orlean's- like city of New Bohemia. King Leontes becomes Leo, and King Polixenes becomes Xeno, a video game designer. Leo's conviction that the child his wife is carrying is Xeno's leads to heartache, tragedy, and possibly redemption. This novel is part of a plan to invite modern novelists to reimagine Shakespeare's plays by Hogarth Press.
The Story of Edgar Sawtelle by David Wroblewski
Hamlet set in rural Wisconsin: Edgar Sawtelle is a young man born mute but living a happy productive life with his parents pursuing the family trade, raising gifted intelligent dogs. The arrival of his father's brother — and subsequent death of his father — send Edgar into years of exile. Circumstances force the voiceless Edgar back home to confront his family about his father's death.
The Lobster Kings by Alexi Zentner
The legendary lobster-fishing Kings of Loosewood, Maine have been ruling the waters for 300 years. With a nod to King Lear, this family saga explores one young woman's personal sacrifice to protect her family's legacy.
Indigo, or Mapping the Waters by Marina Waters
Two young women - brash and confident Xanthe and self-conscious and uneasy Miranda - return to the island of Enfant-Beate, where their ancestor landed three hundred years before, to find fortune and adventure. A retelling of Shakespeare's The Tempest.
Rosencrantz and Guildenstern are Dead by Tom Stoppard
In Shakespeare's play, Rosencrantz and Guildenstern were childhood friends of Hamlet who appear briefly, but play a significant role. In this modern classic play, Rosencrantz and Guildenstern take center stage, with brief cameos by the main cast, and debate the same big questions Hamlet wrestles with, "to be or not to be?"
Graphic Novels
Kill Shakespeare by Conor McCreery
This graphic novel pits Shakespeare's greatest heroes (Hamlet, Falstaff, Juliet, Othello) against his greatest villains (Iago, Lady Macbeth, Richard III). Though faithful to Shakespeare's themes, expect quite a bit more illustrative action than the Bard ever gave us.
Young Adult
Enter Three Witches by Caroline Cooney
Bren is besotted with Erika, a student at his Upper West Side school who has just been cast as one of the witches in the school's production of Macbeth. Erika is besotted with Bren's family, a trio of witches who can't help meddling in Bren's love life.
Jason and the Bard by Kate Gilmore
At the Avon Shakespeare Festival, Jason is one of the newest apprentices. He is learning acting, swordplay, and stagecraft from some of the theatre's most respected Shakespearean thespians. He has also been tasked with discovering who is sabotaging the troupe with exploding props, itching powder in the costumes, and falling light fixtures.
Warm Bodies by Isaac Marioan
R is a zombie… but he's not quite like the other zombies out there. He may eat people from time to time, but he'd rather collect artifacts and listen to Sinatra. Until one day, R meets Julie, a girl with brains he doesn't want to eat. A twisty, tasty dystopian retelling of Romeo and Juliet.